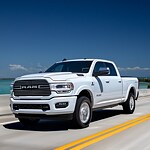 The Ram 2500 is a heavy-duty pickup truck that's clearly built to last. In fact, its durability is why so many drivers choose this truck when they need to get a tough job done. Even when the terrain is rugged, the Ram 2500 is trustworthy.
Smart Diesel Engine Exhaust Brake System

The engine in the Ram 2500 leverages a smart diesel exhaust that's exclusive to its class. It remains stable during the process of hauling loads that are exceptionally heavy.

Steel Frame with 50,000 PSI

? The Ram 2500 has a steel frame with a remarkable 50,000 PSI. This is partly what makes it such a durable vehicle that performs with great efficiency. The strength of the framework promotes optimal suspension.
Now is a great time to take the Ram 2500 for a test drive. Chrysler Dodge Jeep Ram of Calallen is located in Corpus Christi and we invite you to visit. You can learn more about this durable truck while behind the wheel.